20.06.2019
As part of their Pride Month celebrations, Glad Day Bookshop, the world's oldest surviving LGBTQ bookstore, has launched a fundraising campaign. The goal: to raise $50,000 to help Glad Day serve the community through their bookshop, bar, cafe and community event space for another 50 years.
The campaign is being supported with a short film by Cossette. In a modern twist on the Pinocchio story, the animated short portrays a young child born a girl, who wishes to be a real boy. In the end he realizes he was always a real boy, just by being himself. The hope is to introduce the transgender narrative to children in a way that's understandable and relatable. The belief that "being yourself makes wishes come true" applies to all children, of all backgrounds, identities and orientations.
"Glad Day believes that story, representation and freedom of speech are critical elements of LGBTQ culture and identity and that our space is an important place that supports, nurtures and inspires creativity and community." says co-owner Michael Erickson. "This film celebrates the process of understanding the truth of our stories and putting ourselves out in the world."
"There is nothing more powerful than stories," says Peter Ignazi, Global Chief Creative Officer at Cossette. "This film was a labor of love for our teams and we look forward to supporting Glad Day as it provides a safe space for people to share their stories for years to come."
The film, which will run on Glad Day's social channels, was a collaborative effort between a handful of partners who all donated their time to bring the concept to life. Cossette came up with the initial concept as part of an internal creative challenge and collaborated with TONIC DNA to develop the visuals and produce the animation with Emmy and Oscar-winning Director, Illustrator & Storyteller Joe Bluhm. The score was composed by Grayson Matthews Audio Design and narrated by Dana Brooks. The story will also be adapted into a children's book later this year.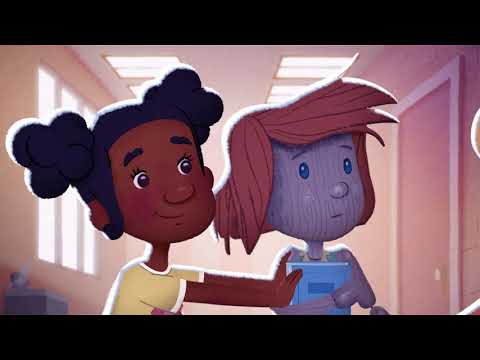 Credits
Client: Glad Day Bookshop
COSSETTE:
Agency: Cossette
Global Chief Creative Officer: Peter Ignazi
Associate Creative Director: Jordan Hamer
Associate Creative Director: Spencer Dingle
Copywriter: Vittoria Vennare
Art Director: Jordan Smith
Designer: Yoojung Lee
Business Director: Asmait Hailu
Producer: Laura Bossy, Haley Stefan
TONIC:
Production Company: TONIC DNA
Director: Joe Bluhm
Executive Producer: Stefanie Bitton
Illustrators: Joe Bluhm, Maia Zeidan, David Remy Goldstein, Michael Renaud, Myriam Elda Arsenault, Sunmin Park, Emilie Trahan
Animation Supervisor: Alain Seguin
Animators: Emilie Trahan, Stéphane Demers, Etienne Dufresne, Luc Sperl, Mylène Sansoucy, Dominique Coté
Compositors : Marc-André Bourgoin, Myriam Elda Arsenault, Sunmin Park, Dominique Coté
Production Coordinator: Isabel Hervieux
GRAYSON MATTHEWS:
Casting Director: Zach Anderson
Audio Engineer: Brian Bernard
Music Director: Ryan Kondrat
Music Composer: Jeff Milutinovic
Sound Designer: Michael Bisanti
Production Coordinator: Tyler Estwick
Senior Producer: Sharon Yokoyama
About Glad Day
Glad Day Bookshop is the first Canadian and the longest surviving queer bookstore worldwide. Serving the LGBTQ community since 1970, we specialize in offering the widest possible selection of lesbian, gay, bisexual, trans, two-spirit, and queer literature, both in and out of print. Glad Day is also a cafe, bar and event space, hosting over 75 events every month. The non-profit arm of Glad Day, called Glad Day Lit, runs a variety of programs, including Naked Heart - the largest LGBTQ literary festival in the world.
About Cossette
Cossette is a fully integrated brand experience agency. It's a community of 700 creative humans who help people and brands connect in meaningful ways.

Cossette was named Agency of the Year in Canada in 2016, 2017 and 2018. It currently has offices in Halifax, Québec City, Montréal, Toronto and Vancouver, and has been making strides to become a major player in the global advertising community. To learn more, please visit cossette.com.
-30-
For more information:
Kali Pearson
kali.pearson@cossette.com
416-669-9164
Womens Running Shoes