11.01.2018
Winter is back and so is VIA Rail Canada's "Why don't you take the train?" campaign. Developed by creative agency Cossette and media agency Touché!, the campaign once again encourages Canadians to say goodbye to the hazards of winter driving by opting to travel by train—the smart way to travel, especially when road conditions are poor.
Launched during some of New Year's Eve's most popular programs, including CBC's year-end segments on The National and the New Year's Eve countdown special, as well as Bye Bye 2017 on Radio-Canada, the campaign will run through the winter and include pre-roll, OOH, digital advertising in LaPresse+, as well as social media ads.
The latest executions include two 15-second videos and six social media videos featuring winter driving hardships that all drivers and passengers can relate to. As for OOH, billboards located near major highways will advertise contextual messaging on days when the weather is particularly dreadful, to position VIA Rail as a safe and smart alternative.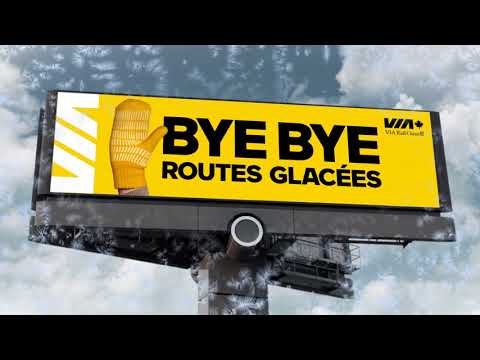 Credits
Advertiser: VIA Rail Canada
Agency: Cossette
Media agency: Touché!
Digital agency: Tink
Production company: 4Zéro1
Director: François Jaros
About Cossette
Cossette is a fully integrated marketing communications agency that offers a complete range of cutting-edge communications services. It's a community of talents, a unique gathering of expertise and creativity that builds strong brands for its clients and maintains a dialogue with consumers.
Cossette was named Agency of the Year by Strategy magazine in 2016 and 2017. The agency currently has offices in Halifax, Québec City, Montréal, Toronto and Vancouver, and has been making strides to become a major player in the global advertising community. To learn more, please visit cossette.com.
-30-
For more information:
Roxanne Chaudier
514 827-8315
roxanne.chaudier@cossette.com