20.11.2018
The Montreal Children's Hospital Foundation just unveiled its new brand image, created by Cossette. The Foundation's three pillars are at the essence of the new identity—Heal. Love. Bond. Three little words that mean a lot for sick children and their families. Three big words at the heart of the work being done at the Montreal Children's Hospital. And three incredible results of the support given by donors.
Representing the figure of a child, the logo consists of a single band-aid to symbolize the Hospital's core mission to heal children and ease their suffering, and a band-aid heart to represent the love that flows between our patients and our medical staff. Joined together, they form an icon that stands for the unbreakable bond between donors, patients and their families, and the Hospital.
Trick and treat
The Children's was the first hospital in the province of Québec dedicated entirely to pediatric care. Beyond its medical mission, the Hospital understands the importance of letting kids be kids, despite the challenges of their illness. Inspired by this particular purpose, the Foundation called on some heavy hitters to bring Halloween to children who weren't able to take part this year.
And so, on October 31, students from Montréal primary school École Saint-Barthélemy collected donations to organize a blowout Halloween party for kids at the Hospital. "When you see five to eight-year-olds willing to trade their princess or Harry Potter costume for a hospital gown to help other children, it makes us adults want to chip in too," said Vicky Morin, creative director at Cossette.
Thanks to the generosity of the students and the people who donated to the cause, the children at the Hospital enjoyed a magical event that included shadow puppets, an oversized piñata and giant interactive costume, a message from Foundation spokesperson and hockey player PK Subban, and a wheelchair race.
For the Foundation, this brand refresh helps set the stage for a major fundraising campaign coming in the near future.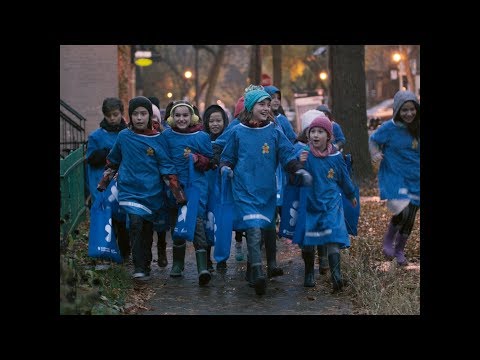 Credits
Advertiser: Montreal Children's Hospital Foundation – Renée Vézina, Kim Fraser, Séverine Defouni, Sylvie Desjardins
New brand identity
Agency: Cossette
Creative: Richard Bélanger, Simon Langlois
Product: Andrée Losier, Noémie Ferland
Strategy: Hugo Fournier
Studio: Colette Dumay, Isabelle Bourgeault, Nathalie Boucher, Mélissa Choquette
Trick and treat
Agency: Cossette
Creative: Vicky Morin, Steve Pépin
Product: Andrée Losier, Noémie Ferland
Strategy: Hugo Fournier
Media agency: Cossette Média – Guillaume Girard
Public relations: Citoyen Optimum
Production house: Gorditos
Produced by: Emanuel Hoss-Desmarais
DOP: Steve Asselin
Production: Véronique Poulin, Marie-Christine Blouin, Bruno Beauchemin
On-set art director: Hugues Letellier
Editing house: CAG, Simon Sauvé
Music: Paul Maco, Karl
Sound: La Majeure, P.O. Rioux
Special thanks to the students at École Saint-Barthélemy and the École De Montarville student choir.
About Cossette
Cossette is a fully integrated marketing communications agency. It's a community of 700 creative humans who help people and brands connect in meaningful ways.
Cossette was named Agency of the Year in Canada in 2016, 2017 and 2018. It currently has offices in Halifax, Quebec City, Montreal, Toronto and Vancouver, and has been making strides to become a major player in the global advertising community. To learn more, visit cossette.com.
– 30 –
For more information:
Roxanne Chaudier
Nike Air Flight Huarache